Business Analytics Workshop
Event Date: September 5, 2021
Information Management area of Institute of Management, Nirma University organised a Business Analytics Workshop for industry professionals as a part of the Silver Jubilee celebrations on Sun. 5-9-21 from 11 am – 2 PM.
Total 25 Participants from manufacturing, infrastructure, space science, diagnostic labs, software and FMCG sector attended this online event.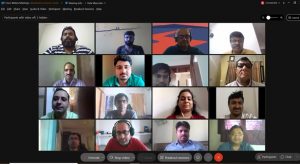 Initially, Dr. Nityesh Bhatt welcomed the participants and highlighted the importance and an overall scope of analytics for modern businesses. Prof. Balakrishnan Unny discussed industry applications, major techniques of Data Analytics and Mining and relevant frameworks. Mr. Neil Harwani, Promoter – Tech and Train provided an overview of Data Visualisation through practical demonstration using tools like Tableau, R and Python.
Participants were found satisfied with the content and delivery and expressed their willingness to explore these concepts further.